Today, we have a little trick for you on how to easily get new YouTube subscribers – instantly!
Edit the Link to Your Youtube Channel
Add this extension to your channel link: ?sub_confirmation=1
Then the link looks like this: https://www.youtube.com/user/WorkoutMusicService?sub_confirmation=1
Shorten the Link
The link is now relatively long, but optionally you can shorten it with a link shortener, e.g. Bitly.
The link looks like this: https://bit.ly/2ND3K7r
Share the Link on Your Website, Social Media & Co.
Share the link anywhere on the internet, you have no limits here. Anyone who clicks on your shared link will land on your main channel page, which shows immediately a pop-up window to subscribe to your channel.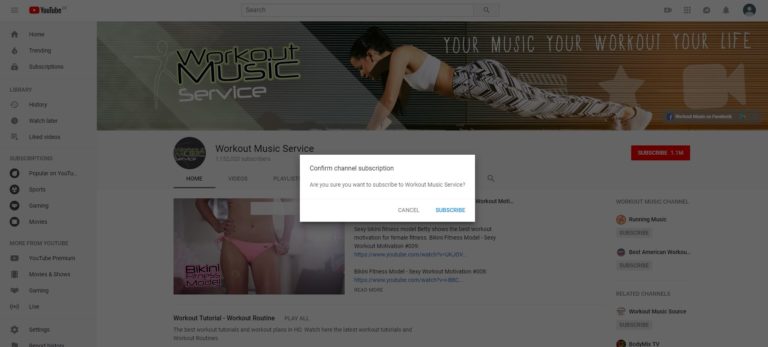 Here are some examples where you can share the link:
in your Instagram bio
in your Facebook profile as well as in Facebook posts
your website
in comments on other blog posts
in your email signature
in your newsletters
Why new YouTube subscribers are important?
According to the IFPI, the digital share of the worldwide revenue of the music market in 2017 was as much as 54%. In addition, the streaming revenue grew by 41.1% last year. So you see, there is a lot of potential for you in streaming. In May 2018, YouTube also launched its music streaming service, which replaces YouTube Red. So when you upload a new video to YouTube, it's automatically shown to your fans. The more subscribers you have, the higher your click numbers will be and thus your revenue.