Actress and TV star Janina Uhse (best known for the successful German TV series "Gute Zeiten Schlechte Zeiten") has published her first cookbook "Meine Glücklichküche" (My Happy Kitchen) through our physical book distribution partner Nova MD. Cooking is Janina's greatest passion. She loves cooking evenings with friends and gets inspired by her travels. She loves international cuisine and leads her readers through the cuisines of her homeland, the a the German coast of the North Sea, Japan and her chosen home Berlin. In our interview Janina talks about the process of writing a book.
Cooking Is Your Passion. Have You Always Loved Cooking?
Since I can remember, food and indulgence  has been a big topic for our family. My grandparents were over 40 years passionate gastronomes and also at home my mother always cooked a lot and very delicious food. I would say that my passion for culinary art is firmly anchored in my DNA.
So How Did You Get the Idea to write a Cookbook?
For over three years now I have had my food channel on Facebook "Janina and Food", which has constantly been growing. A cookbook has been requested by the community since day one. A year ago, the time had come to follow the wish which took me on a journey to my culinary roots.
How Long Did You Work on Your Book?
From the first rough concept to the release date, this process took a year and four months. Never before would I have believed that a book would take so much time and expertise from so many different trades.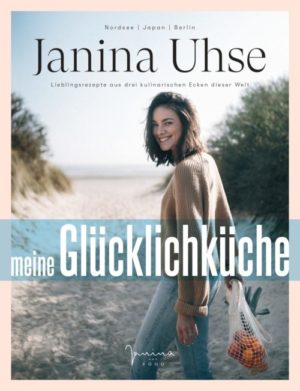 What Was Especially Important for You With Your Book?
I wanted to tell a personal story. I wanted to travel to the places where it all began and where I was formed. I'm not a trained cook, so I found it important to take people on my culinary journey so that they understand where my passion for food and cooking comes from. I also always wanted a book that you want to put on your table because it feels good, smells good and when you open it, it tells great stories and gives inspiration in the form of recipes. All this is united in "Meine Glücklichküche".
Did You Get Help from External Service Providers or Did You Do Everything Yourself?
You are nothing without a strong team. I have gathered my favorite people and everyone covers the area in which they are absolute professionals. From art direction to final editing… I want the people out there to have a book in their hands that makes them happy – and a book of which I can be entirely proud of.😉
Why Did You Choose Nova MD and Selfpublishing?
There were some meetings with classic publishers and their representatives in advance – and a lot of mutual interest. But the rigid structures there didn't give me the freedom I needed to fully develop and work. My name is written on the book, so it should also bear my handwriting. And: I am not afraid of responsibility and knew that with a strong team who have my back, it can only work out great.
Can We Look Forward to Another Book from You?
First of all I am overjoyed about my first book. Should it be well received, why not?