For the past years, Spotify has been a huge part of the music industrie. Almost 200 million people use the streaming service worldwide, which makes Spotify one of the biggest players in the music industry. But that is not a reason for the giant to take it easy, just the opposite. Spotify develops more and more ideas and features, so you as an artist can present yourself in the best possible way and increase your streaming numbers.
Today we will show you how to use Spotify so you can improve your sales and income.
NEW! Share Your Music in Your Instagram Stories
The most important thing you can do is to promote you and your music. Spotify wants to make that as easy as possible for you. As of late, Spotify introduced a brand new function, which allows you to share your albums, tracks, favorite artists, and playlists directly in your Instagram Stories. The user will be directed through a deep link directly into the Spotify app and can instantly listen to your music. All you need is, of course, the Instagram and Spotify app on your smartphone. In the "share" menu you can choose "Instagram stories" and share your music with your fans. Of course, you can edit your story with texts, stickers, links, etc. as usual.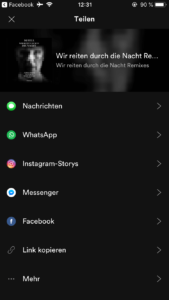 Set up Your Verified Artist Profile
A verified artist profile gives you lots of benefits:
You can upload your own artist picture: This is the first thing users see when they look for your name
You can increase your relationship with your followers  by sharing your personal Artist's Pick
You can create playlists and gain more followers that way
You can merge your social media accounts
You can keep your followers updated about your latest releases
Furthermore, you get the blue check mark, so your fans know that it is really you. In order to set up an artist profile you need a regular user account. You can sign up here. Afterwards, you can verify your account via Spotify for Artists. As soon as you are registered, you are automatically verified.
Spotify Bio
You can write about you personally as well as information about your music, which you can update at any time. You should do that whenever you release a new album or track. You can link directly to them, or even other artists, if you have a collaboration. If other artists link to your profile or tracks, you can gain more traffic and respectively streams.
Artist's Pick
If you use the artist's pick function, you choose what users see first thing on your profile. This is perfect to promote your latest release, concert or playlist. Just choose a track, album, or playlist, insert a suitable picture and write a short message. Your artist's pick will be shown at the top of your profile for two weeks.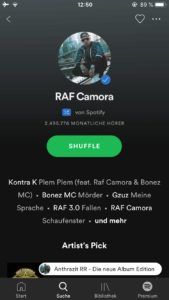 Spotify Playlists
Create Spotify Playlists with music that you currently enjoy listening to. You can use a mixture of your own songs as well as songs from other artists and bands. Another possibility is to create playlists for different moods and seasons. That way you promote your music, you can be found by users who don't know you yet, and gain more followers. It is also an easy way to gain more streams for older tracks, that wouldn't get that many streams anymore.
Important Data for Your Online Marketing
You can get lots of important information and statistics through your artist profile. Even more data than we can provide as your music distribution service. Use that data for orientation for your marketing strategy. From an artist's point of view this is important if you want to plan an online advertising campaign.
Presale Promotion
With the help of our unique marketing tool Feiyr Spotify Add-it! you can promote your latest release even before its release date, so you can use the presale Phase to it's full extent. All you have to do is to generate a link in your Feiyr account and your fans can add your bundle to their playlists. As soon as the tracks are available, they will be automatically added to the playlists. It's that easy! Furthermore you get statistics on how often your release was added to a playlist.
You haven't published your music on Spotify, yet? Then start now with Feiyr and sell your own music!