Direct marketing is the buzzword of the hour! If you want to reach your fans and readers directly and without detours, you should make use of the latest possibilities of messenger marketing on social networks. Since Messenger Marketing is still on the rise, you can be one of the first to benefit. You can't reach your fans faster or easier!
"Do I really need this? I already have Instagram, Snapchat & Co…"
Yeah, you really need this! Why? Messenger messages can reach more people than Instagram, Snapchat, and Twitter. And that's not even the best part, you don't have to worry about algorithms. How many newsletters do you receive each day in your inbox? Too many? I'm sure you're also annoyed by it sometimes and don't read them all. Users rarely receive advertising messages via Facebook Messenger. You can use this to your advantage. The user numbers of the Facebook Messenger confirm this: They grow annually by approx. 200 million users.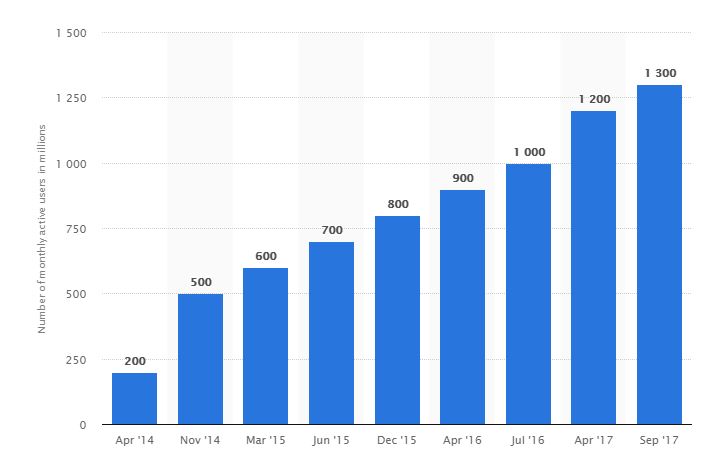 Source: statista.com
The Potential of Facebook Messenger
You don't think you can reach a lot of people via messenger? Then take a look at Facebook's numbers from 2017:
Worldwide more than 1.3 billion users
More than 7 billion daily conversations via messenger
17 billion video chats (twice as many as in 2016)
2.5 million new group chats created every day
About 500 billion sent emojis
Source: Facebook
In addition, Facebook recently announced that they are linking the Messenger service to WhatsApp and Instagram. What does that mean exactly? While all apps remain separate platforms, as a Facebook user you can use them to write to people who only use WhatsApp or Instagram. This makes the whole thing even more powerful and you can reach even more people as a result.
Your Benefits with Messenger Marketing
First Mover effect: Messenger marketing is not yet used by many companies and artists. This can give you a huge advantage because the users are still curious and not saturated as with newsletters.
Reach your target group: Messenger allows you to reach all fans of your Facebook page who subscribe to your Messenger newsletter. So you reach exactly the target group you need: your fans.
High opening rates: Hardly any Messenger message remains unread. The opening rates are often over 90 % and therefore significantly higher than with newsletters.
No algorithm: On Facebook and Instagram, the algorithm determines whether your fans see your posts. You certainly don't have to worry about with Facebook Messenger.